First let's tackle the sale.. it's not really what you are thinking- that will be discussed in my next paragraph. It's a clothing sale!
Fashion Bug
.. it's one of my favorite stores for women's clothing. Not only are they reasonably priced, they carry women's styles in a wide range of sizes, 6–30 to be exact. I love that they are all in the same styles without the cost of extra material if you should need it. I am starting a new full time job next week so I needed new clothes. I don't have to wear anything fancy, jeans & nice top is fine, but I only owned 2 pairs of jeans that fit and not a whole lot of tops either. Right now they are having a
40% off the spring line
and 75% off clearance but when I shopped the other day they were doing a Buy One Item, Get Another 50% off. So I got a REALLY good deal. And it's a good thing I bought when I did because some of the stuff I ordered is no longer available. I ended up with 7 tops, 5 pairs of jeans, and 2 new bras. Not a bad deal at all.
Now to address something else- I have closed my
SDD
shop. The reason being that I thought I would be able to get back to designing a little but now that I am starting this job outside the home, I'm not going to have a lot of time. It sucks, but it's what I have to do. I am however, thinking of making my current stock that I designed for sale at SDD available here through paypal incase anyone wanted anything. And also if I get a bug up my butt and design a little something new, I can put it up for sale here.


On to some fun stuff:) Last night I attended a Purse Party hosted by my sister-in-law, Shala. It was to help her raise funds for Breast Cancer. Her mom, Tammie, was recently diagnosed and some the efforts from this party went towards that. There was a lot of great stuff to choose from. I ended up getting myself a new wallet and a matching wristlet for when I go out and don't want to lug around my big purse. We had a lot of fun.



I just realized that I haven't been posting my ADSR layouts on here, so here are my last few pages- I'm doing thumbnails this time because it's easier lol. Click to enlarge.



This one was to use selective coloring in the photo, dating elements, and at least 20 words in the journaling.



Credits:



Background Paper: Plain & Simple Winter by Blythe Evans (retired)
Wood Frames: Blythe Evans Wood Ya Like A Frame? at SDD (Scrappity-Doo-Dah)
Dating Elements: At This Moment by Blythe Evans at SDD
Heart Element from Micheline Martin's My Blue Valentine Kit(retired), Dirt element from Micheline Martin's All Natural Kit (retired), 'love' word element is Micheline Martin's Perfect Title V.1 (retired).
Corner stitching: Natali design stitching freebie.



The word 'dirt' in journaling and word 'Oh' in title is Blackmail alpha brushes by Blythe Evans at SDD.
Sparkly Craft Foam Alpha is from the Pastel set by Blythe Evans (now retired).



Font: Pea Hannah Vanilla



This challenge was to create 2 ATC's (Artist Trading Cards) per team member and then put them all on ONE layout. The Theme: The One I Love (One card about someone or thing in your life and the other about your partner.)



Blythe's Credits:



(Partner)
Pink BG Paper & Birdie- Kathyrn Balint
Flowers: JannyLynn Silk Flowers
Dotcom Friends WordArt-Tina Chambers @ DSP
Flower Centers: Flergalious 2 Centers
Diva Crown (lol) Happily Ever After Collab by Mary Fran & Kay Miller



(Personal)



Room A Zoom Zoom Collab by Micheline Martin & Melissa Bennett



Bobbie's Credits:



(Partner)
Rubber Band by Kate Hadfield
Frame by CRD
Tattered Tags by Natalie Bird
Flowers No. 3 by ON Designs
Flower Rain by Jeann G
Flower Mania by Jofia Devoe
In The Sandbox by MK Designs
Font: CK Sketch



(Personal)
Spiced Pumpkin by Gina Miller
Fanpire by Tangie
Cherry Blossoms by Jenna Desai
O Brother Collab by OScraps



Extra Credits: Blythe Evans Down & Dirty Paperpack & Teeny Tiny Type Alpha



This one was to incorporate chocolate in the layout in some way. Was also a 'recipe' challenge. We were given a list of items, which we needed to use at least 6 of from the list.



Credits:



2 papers- Blythe Evans Iced Mocha Latte Papers (retired)
1 ribbon- Sheer Skinny Ribbon Wraps by Wendy Page
1 alpha- Atomic Amber Kit by Micheline Martin (retired)
1 staple- Redju's CU staples
1 flower- Silk Flowers by Jannylynn
1 button- Atomic Amber Kit by Micheline Martin (retired)



Challenge 7:



**No Challenge 6 for me because it was to be done by ONE Team member.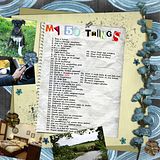 The Challenge:



Make a 'bucket' list of 50 things you wanted to accomplish. This was HARD.



Credits:



Micheline Martin- Sunday Morning, All Things Natural Kit, & Ransom Alpha (retired).
Jannylynn's Silk Flowers
Notebook paper: Vicki Stegall's rock On Kit
Flower Stitching: Sweet Genevieve



Stock Photos: Free Digital Photos (.net)



The Challenge:



To use 'Someday' as your theme and journaling. Use a 'tone on tone' patterned background paper and at least 10 elements.



Credits:



Miss Priss by Blythe Evans & Micheline Martin (retired)